Attorney Profile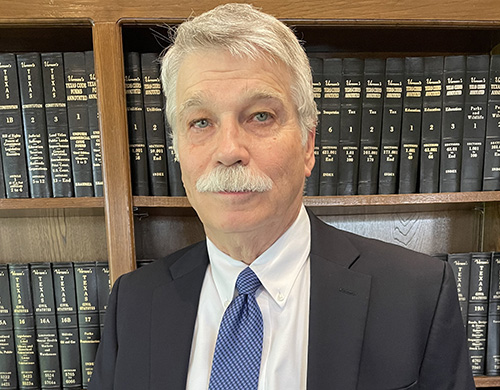 Mr. Campbell has lived and practice law in Tarrant County since May 1978. In that time he has earned a reputation as an effective and pragmatic attorney who serves his clients with care, respect and confidence. He has engaged in a general civil legal practice in areas which  include probate of wills and estates, guardianships, business and commercial litigation, family law, personal injury and property damage claims, real estate, civil trial, and alternative dispute resolution.
His friendly and amiable style and attitude grew out of his Texas roots, also the source of his West Texas accent, which runs counter to his ability to quickly analyze and grasp the issues and possibilities of legal matters.
Because of Mr. Campbell's broad range of experience and training he is able to offer services to a wide range of business and individual clients.  He has represented numerous business clients and closely held business entities which include a large equipment manufacturer, commercial contractors, medical professionals, specialty business entities, and real estate purchasers and sellers.
Individual clients have benefited from Mr. Campbell's representation in contested and routine probate and administration of wills and estates; contested and routine guardianship cases; fiduciary litigation involving estate representatives and beneficiaries; family law matters such as divorce, custody, and child support; and personal injury, property damage and insurance claims.
He is committed to staying current to changes in both the legal environment and the law through continuing legal education, so as to provide his clients with practical and cost effective representation in all of his areas of practice.
Mr. Campbell has also been active in the legal community and the community at large.  He has served in every office with the Arlington Bar Association including President in 2006.  He is committed to community service and has volunteered as an attorney for the Women's Center of Tarrant County since 1991 and was recognized as Volunteer of the Year in 2001. Mr. Campbell is an active member of First United Methodist Church of Arlington where he has served as a Trustee, teacher, leader on numerous committees, and author of the Safe Sanctuary Policy For Children, Youth and Vulnerable Adults.
Please click here to see his education and other resumè information.